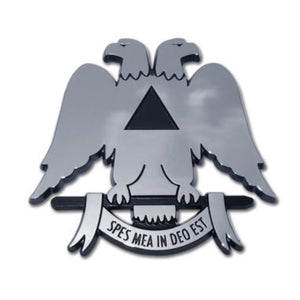 Scottish Rite shiny chrome auto emblem (3.75" x 3" x .125"). – an ABS plastic core with a triplate chrome-plated metal finish. Shiny chrome guaranteed to last the lifetime of your vehicle! Attaches via paint-safe 3M adhesive foam tape. This auto emblem will look brand new for years to come (as opposed to cheap imitations that will fade or chip within months of being on your vehicle). Our high-end auto emblems are the perfect way to showcase your Masonic pride everywhere you drive. In addition, all chrome emblems are packaged in elegant retail packaging to make a great gift! FREE shipping on all orders.
PREMIUM MATERIALS: Brand New - Highest quality product durability Scottish Rite Auto Emblem (3.75" x 3" x .125") with highest plating specs on the market
EASY INSTALLATION: No Tools or Glue Needed - Emblems attach with a simple peel and stick application via paint-safe adhesive foam tape
HIGH QUALITY: Exquisite craftmanship - Emblem will last for years & will not be affected by extreme weather or car washes
UNIVERSAL FIT: Can be placed anywhere - All you need is a flat smooth surface
PERFECT GIFT: Everyone will love it! The easy way to "Show Some Pride on Your Ride!"™
NOTE: we don't ship it internationally. We ship anywhere in USA.