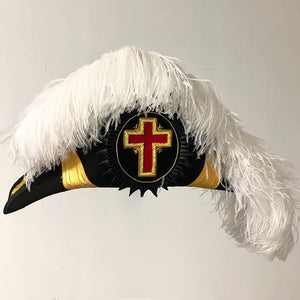 Knights Templar Past/Grand Commander Chapeau - Flat Body
We customize all Chapeaux to your state regulation. If you need any modifications just contact us. Available in Black Plume as an option.
Flat body - are not completely flat, there will always be a minor curve from the rounded hat body.
100% Wool Felt Body, with gold slashing with bullion thread, Gold wire tassel, 4-ply x 8 whole-piece white genuine ostrich feather with quill.
Refer to the size chart to determine your head size. Measure around the head, 3/4" above the ears.
Shipment - within 4 weeks only!
Chapeaus are custom-made to order, and as such, orders are non-cancelable or returnable except for manufacturing defect and within 10 days of order. We carefully inspect all products before shipment.
The quality of our chapeaux is unmatched and our prices are reasonable.